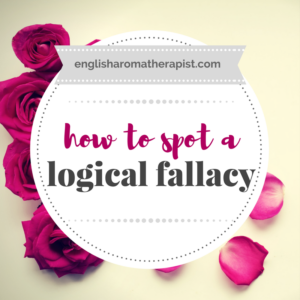 If you're a regular Facebook user, you'll probably have noticed that conversations on there can get pretty heated, to say the least. A friendly post can descend into flame wars in a matter of minutes.
As essential oil popularity explodes, so does the amount of unauthorised information. We're now facing information overload from an array of conflicting sources – much of it inaccurate, unsafe or outright dangerous.
I've previously written about what to do when we see bad advice, but I thought it would be useful to talk about logical fallacies and how they relate to aromatherapy advice.




Share this on...