What is the best aromatherapy course?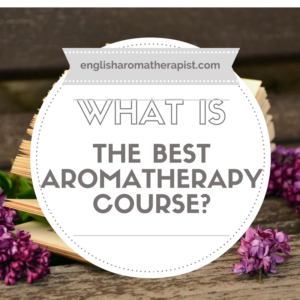 If you're interested in becoming an aromatherapist, it's important to find the right course for YOU. This can be tricky when there is such a wide range of training options available. Let's go through some points to look for when choosing an aromatherapy course.
Business or pleasure?
The type of course you need depends on whether you intend to work professionally as an aromatherapist, or simply want to learn about essential oils for your own use at home.
If your interest is purely for pleasure, there are lots of leisure courses that offer a good introduction to aromatherapy. These can be in the form of one-day taster courses or evening classes. Ask your local college or community centre for more details. Alternatively, you might prefer an online distance-learning course – for more about this, read What about distance learning? (see below)
If you want to work in the holistic therapy industry, you need a course that is recognised as a professional qualification. Insurance companies will usually list all qualifications that are accepted. These are courses that meet National Occupational Standards (NOS), which means they comply with defined standards of learning (such as curriculum content and tutor experience). The current NOS curriculum for aromatherapy courses is available to read online here.
Some examples of professional aromatherapy qualifications include:
VTCT
BABTAC
BTEC
CIBTAC
CIDESCO
CITY & GUILDS
IIHHT
ITEC
NVQ LEVEL 3
Pick your provider
When it comes to training, budding aromatherapists have two main options:
1. Further Education College
Most local further education colleges offer holistic therapy courses that will result in a nationally recognised qualification (e.g. VTCT Diploma or NVQ 3).
Unfortunately, the range of these courses has significantly reduced in recent years – possibly due to changes in funding and the economic climate in general. Fifteen years ago, it was common for local colleges to offer a wide range of aromatherapy, reflexology and massage courses. These days, you might need to look further afield than your nearest college, depending on the specific course you wish to take. Qualifying bodies usually list their approved training providers on their website – for example, all approved centres to run the VTCT Level 3 Diploma in Aromatherapy can be found here.
College courses may be full-time or part-time, and the specific modules included in the curriculum will vary. If you are aged 16-18, full-time education courses are usually free. There is often financial help available for those who are aged over 18 and wish to study full-time. Students will usually have to pay for their own aromatherapy kit, but this may be subsidised if you are on a low income or eligible for other financial assistance.
Part-time (or evening) courses are ideal for those who are unable to embark on a full-time course during the day, or for those who only wish to specialise in one treatment/therapy. For more about this, read Full-time or Part-time? (see below)
2. Private Training Providers
You may prefer to use a private training provider to study aromatherapy, rather than attending a local college. The advantage is that you can usually complete a qualification in a much shorter period of time, as opposed to a year-long college course. This is particularly beneficial for older students who aren't interested in the social experience of college and just want to qualify and start working as quickly as possible.
The disadvantage to private training courses is their cost, as they tend to charge much higher fees than local colleges. If you do choose this option, always ensure that the course leads to an industry-recognised qualification.
Full-time or Part-time?
From a financial perspective, studying full-time at college is usually the cheaper option. Full-time courses are usually free for those aged 18 or under, and there is often funding available for adult learners on a low income. Younger students may prefer the social aspect of college culture and learning alongside their peers. The disadvantage is that full-time courses are not always practical for older students who need to juggle a day job and/or family commitments with their training. In addition, the duration of these courses is usually at least one year, which is a significant commitment of time. Enrolments are usually every September, so you might need to wait several months before you can even begin your course.
Part-time courses, on the other hand, are more appealing for those looking to fast-track their career. They are ideal for older students who are looking for a career change and needing to balance aromatherapy training alongside their day job. Classes are usually held on evenings, weekends or over an intensive period. Depending on your lifestyle, this can be a more efficient use of your time. The downside is that part-time courses are usually more expensive, particularly from private training providers.
Can I take a one-day course?
When you're busy and keen to get started in aromatherapy, it's tempting to opt for a fast fix. You may have noticed there are many 1-day, 2-day and 3-day packages advertised as 'aromatherapy courses'. Equally, there are hundreds of similar 1-day courses for all types of beauty treatments and holistic therapies.
Personally, I don't believe that one day (or even three days) is a sufficient length of time to equip anyone with the knowledge and skills to become a professional aromatherapist. It is not possible to learn all about essential oils, blending, massage, anatomy and physiology within that time. Even with hours of home study, you need practical experience of using essential oils to really become a competent therapist. These courses can act as a good starting point, but don't expect to walk out the following day and be an expert!
You might find that one-day courses are not taken seriously by employers as a substitute for completing a more in-depth training course. If you plan to go self-employed, you should check that your insurer accepts these qualifications, or you may find yourself without adequate cover.
What about distance learning?
As discussed above, there are so many aromatherapy distance learning courses advertised online. But if you want to pursue a career as a professional aromatherapist, there is no substitute for hands-on learning. Professional aromatherapy associations and insurance companies will not accept home-study or Skype-led training as sufficient qualifications when the practical aspect is so intrinsic to the job. Distance learning courses are acceptable for building up a knowledge of aromatherapy and essential oils, but they are not suitable as a replacement for professional training.
And finally…
I think it's worth mentioning that you should always question whether a person (or company) offering aromatherapy training has an agenda. Thousands of people sign up to become distributors of essential oils with MLM companies, hoping to learn about aromatherapy. Unfortunately, much of the 'training' they are given is based on marketing hype, rather than genuine facts. Selling essential oils does not make you an aromatherapist, nor does it qualify you to provide accurate aromatherapy advice to others. The best aromatherapy courses are those which are run by impartial training providers. Always check to see if the trainer is affiliated to a particular essential oil brand, as it is likely that the course will contain sales propaganda rather than professional advice.
Find Out More
Download my ebook The Little Book of Working as a Therapist to find out more about working in the aromatherapy and holistic therapy industry.
Follow me on...




Share this on...