How to get started as an aromatherapist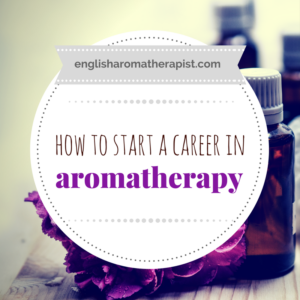 Have you read my blog post about how to become an aromatherapist? If so, let's find out how to get started in your career as a holistic professional.
Great training = great career
To work as a professional aromatherapist, you'll need to complete an accredited training course. Choosing the right training can be a minefield and I've written a separate blog post about how to find the best aromatherapy course. Please note that signing up to be a distributor of essential oils with an MLM company does not qualify as training. It is important to distinguish between genuine information and marketing hype. Look for a training course that is impartial and not affiliated to any particular brand of essential oils.
Employed or self-employed?
Once you're qualified, you'll need to decide on your career pathway – do you want to be employed by someone else, or would you prefer to work for yourself?
Self-employment is not for everyone, so it's important to carefully consider your options. If you prefer the idea of a regular income without the responsibilities of running a business, you might be more suited to finding work as an employee. When searching for jobs, remember that not all businesses will advertise vacancies – so it's always worth sending out CVs on spec. Even better if you can contact a business in person to ask about any employment opportunities – sometimes it's just a case of being in the right place at the right time.
Choose your location
If you're taking the self-employment route, you have various options for a business model:
Rent (or buy) business premises to set up your own salon/practice
Rent a room within an existing business
Work from home
Offer a mobile service
It is possible to do a combination of the above options – for example, you might rent a room during the day, but also offer mobile services during evenings.
What kit do I need?
If you want to set up your own business, you'll need to invest in some basic stock and equipment to get started. The exact list will depend on your business model (see above).
As a minimum, you'll need to consider:
Massage couch (plus therapist stool)
Towels
Essential oils (very important!)
Carrier oils
Blending accessories (e.g. glass mixing beakers, bottles etc.)
Client record cards and consultation forms
Uniform (optional)
If you're fitting out a salon from scratch, you'll also need to think about the décor, reception area, payment facilities, bathroom and external signage.
Consider how you will deal with laundering all your towels – will you need washing machine facilities on-site, or will you bring them home?
Be professional
As an aromatherapist, it's important to choose a reputable essential oil supplier. This isn't always an easy task, but this list of Aromatherapy Trade Council members is a good place to start.
Not all therapists wear a uniform, but you might find it makes you feel smarter and more confident. There are hundreds of different styles and colours of therapist tunics available online, or from trade suppliers.
Don't forget to get professional insurance and consider joining an industry association, such as the Federation of Holistic Therapists (FHT).
Crunch the numbers
Decide what treatments you'll provide and come up with a price list. If your budget allows, outsource the design and printing to an external company. Clients will judge your business based on the appearance of your price list, so keep it professional and informative.
Take into account your costs when creating prices – not just the cost price of doing one treatment, but also your fixed overheads such as insurance, membership fees, website costs, rent, utility bills, petrol etc. Don't just invent a random price off the top of your head – you need to make sure you're making a profit. A £5 massage might get the customers flooding through the door, but it could leave you out of pocket. Cash flow is vital, particularly for start-ups, and you need to ensure you have enough money coming in to pay those bills.
You'll need a system for storing client record cards and consultation forms. Standard templates are available to buy or download online, or you could make and print your own using basic computer software.
Branding is key
Every business needs a name – you might choose to include your name (e.g. Susan Smith Therapies) or choose something more anonymous (e.g. Butterfly Therapies) or location-specific (e.g. Aberdeen Aromatherapy).
Marketing is key to the success of any business. Think about how you will promote your services to gain clients. Every new business has to be proactive in finding customers – don't just expect them to come knocking on the door! Some free (or low-cost) ideas include:
Setting up a Facebook page
Handing out flyers or business cards in local businesses/noticeboards
Volunteering your services for charity events
'Recommend a friend' offers
Introductory discounts for new clients
Holding an 'open day' with demos and promotions
Emailing a monthly newsletter to clients
Writing articles for blogs, newsletters or magazines
Volunteering to give a short talk about aromatherapy at local clubs/groups
Participating in any events that involve press coverage (get your name out there!)
Most people use Google to research a business, so it's definitely worthwhile investing in a basic website. Try to include as much information as possible about your treatments, prices and contact details. Websites without prices are extremely off-putting to potential clients. A blog is a great way to build up content for search engines to index your page and improve your rankings. There are several free tools available (such as WordPress) to help you get started. These days, social media is a great tool to build up an online presence – best of all, it's free! Keep your social media accounts updated regularly and try to post interesting content that people are likely to share or retweet to widen your audience.
Working for yourself, you'll need to build up a client base and professional reputation. It can take a while to get started and spread the word, so prepare for slow periods at first. Keep going and, once you start to gain regular bookings, your diary will start to fill up.
Accounting matters
The financial side of running a business can be the most off-putting aspect for many would-be entrepreneurs. The most basic decision you need to make is whether you'll operate as a sole trader or a limited company. There is plenty of impartial advice and information about this on the gov.uk website. For specific advice on tax, accounting and other financial issues, it is wise to seek professional advice.
Remember, if you're receiving an income from a business you need to declare it to HMRC and register as self-employed (even if you are already employed in other part-time or full-time work). It's also a good idea (but not compulsory) to set up a separate business bank account, particularly if you're forming a limited company.
On a practical level, be aware that a large majority of consumers now expect to pay for goods and services by credit/debit card, so it's worth investing in a portable card machine like this one from PayPal.
Growing the team
It's unlikely you'll be employing people if you're just starting out, but if you decide to take on extra staff (such as a receptionist) you'll need to look into your responsibilities as an employer.
Find Out More
Download my ebook The Little Book of Working as a Therapist to find out more about working in the aromatherapy and holistic therapy industry.
Follow me on...




Share this on...