Career options in aromatherapy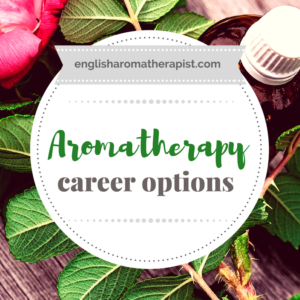 Essential oils are en vogue right now, and their popularity shows no sign of abating.
I'm often asked for advice about how to start a career in aromatherapy.
If you love essential oils, you might have wondered about the possibility of turning your passion into a career. Perhaps you've reached midlife and fancy a change of direction? Or maybe you're just looking for a way out of the 9-5 corporate world?
It's easy to see why so many people are drawn towards aromatherapy as a career change.
In this new video, I'm talking about various options available to anyone who is serious about pursuing a career in the aromatherapy industry – from selling essential oils to working as a massage therapist; teaching; writing; consulting; manufacturing or working in retail.
I've previously written about How to Become an Aromatherapist and How to Get Started in Your Aromatherapy Career.
To find out more about your career options in the aromatherapy and holistic health industry, download my ebook The Little Book of Working as a Therapist. This is a book I've written about my personal experiences in the industry. Over the past 13 years I've worked in a variety of roles, from working in salons to running my own mobile business. I've drawn on these experiences to offer an insight into what it's really like to work in the beauty and holistic therapy, and the various options available to you, as well as some useful therapist documents for anyone thinking of starting their own business.
Follow me on...




Share this on...