Instagram Top 30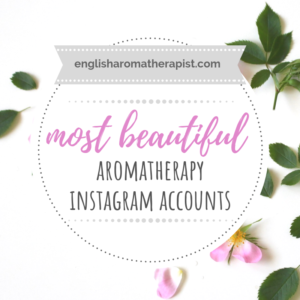 Every social media network has its own vibe.
To me, Instagram is purely aesthetic. It's all about art, beauty and creativity – a perfectly formed picture that tells a thousand words.
My post about Who to Follow on Facebook is focused on pages and groups that share reliable, trustworthy and interesting information about aromatherapy.
But the beauty of Instagram is its simplicity. It's all about the picture. It's not a place I'd necessarily go to seek out information in the way I would on Facebook or YouTube.
For that reason, the accounts I've chosen here are those I consider to be most "Insta-beautiful" for the images they share.
Who goes the extra mile to make their Instagram feed look polished? Who has the prettiest flatlays? Who is Insta-perfect?
At this point, I have to say, there are some exceptionally stunning Instagram accounts from Young Living and DoTerra distributors – but I just can't endorse the kind of usage advice they promote, no matter how gorgeous their feed looks. So they are not included here.
I'm not on the list, but don't forget to follow me The English Aromatherapist on Instagram too!
Please note, I'm not saying these are the ONLY pretty aromatherapy Instagram accounts. There are so many, it's almost impossible to pick just a few. For this reason, consider this Top 30 to be a list to start you off!
So, if you want a beautiful aromatherapy Instagram feed, check out these…
TOP 30
MOST BEAUTIFUL
AROMATHERAPY INSTAGRAM ACCOUNTS
(in no particular order)
A beautifully curated and visually stunning Instagram feed
Those iconic blue bottles are so photogenic – perfect for Instagram!
A very professional and stylish theme from this much-loved essential oil brand
This aromatherapy training school has an artistic and inspirational Instagram style
A fun mix of quirky sayings and beautiful aromatherapy jewellery
Very Insta-pretty pics from this iconic British brand
Plenty of variety on this delightfully colourful feed from Salvatore Battaglia's brand
They do social media so well! You'll love their bright, uplifting pics
A very Insta-perfect feed of pretty roller bottles and accessories
Very pretty floral products from this Devon-based business
Possibly the most on-trend aromatherapy Instagram feed I've seen! Just perfect
Gorgeous aromatherapy jewellery and essential oil storage
A varied and pretty collection from this large US essential oil brand
A very stylish and Insta-friendly feed from a practising aromatherapist
Insta-cool essential oil roller bottles and labels
Very pretty photography from this Miami-based aromatherapy brand
Eye-catching and attractive pics from a certified aromatherapist at NYC's Aromatic Studies school
Classic insta-pretty pics from this Costa Rican aromatherapy brand
A small, but artistic, Instagram account – I like her creative approach to photography
A very pretty and modern Instagram feed
These bright, colourful aromatherapy products are showcased beautifully
A small account, but I love the variety and authenticity of her posts
This Turkish aromatherapy brand has a beautifully curated Instagram theme
Adorably cute fabric diffusers designed for children
Super cute roller bottles and labels
Beautifully captured images from this trendy brand of aromatherapy products
A small following, but I love the artistic style of her recent pics
Beautiful styling from this Norwegian aromatherapy body care brand
Quality over quantity. They don't post a lot, but – when they do – it's chic and modern
Stunningly gorgeous crystal-inspired roller bottles
May I add…?
No-one has paid to be included on this list, it's purely based on my own opinions
Please don't complain if you don't agree with my choices – it's just for fun 🙂
There are LOTS of pretty aromatherapy Instagram accounts, these are not the only ones!
To keep it simple, I have only chosen accounts that are based on aromatherapy. I have plenty of other favourites (there are some BEAUTS out there) but they share other topics beyond essential oils (e.g. herbalism, art, cookery)
Follow me on...




Share this on...