Make your own roller blends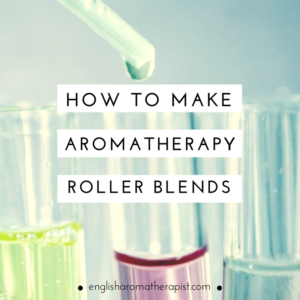 Everyone is loving roller blends right now, and it's easy to see why! They're a fun and convenient way to enjoy essential oils on the move – and the perfect size to pop in your handbag.
When you're busy, you don't always have time to mix a blend from scratch. Making your own roller blend means you can simply roll on a small amount whenever you need to – in a convenient pre-diluted form. Most roller blends are in 10ml glass bottles, with a little ball at the top that allows a small amount of oil to be rolled on to the skin.
Despite what you might read online, it's NOT a good idea to use drops of neat essential oils on your skin straight from the bottle. Essential oils should always be diluted in carrier oil before being applied to the skin. This is why roller blends are so popular – you can just simply roll and go!
Why use roller blends?
So, what are the benefits of using an aromatherapy roller blend?
Just pop one in your handbag for an aromatherapy boost when you're out and about
No need to measure out drops of essential oil each time – just roll and go!
The essential oils are pre-diluted in carrier oil, so they can be rolled directly on to the skin
These small 10ml bottles are easy to use up quickly, without turning rancid
Who needs to wear chemical-laden commercial perfume, when you can roll on some natural essential oils?
What do I need?
To make your own aromatherapy roller blends, you will need:
Empty glass 10ml rollerball bottles from eBay, Amazon or aromatherapy suppliers
Carrier oil e.g. sweet almond or grapeseed oil
Essential oils of your choice (see below)
Stickers/labels (optional)
I bought this set of 6 bottles from Amazon, which worked out at just over £1 per bottle.
Dilution guidelines
Contrary to popular belief, you don't fill the 10ml bottle with essential oils and then just "top up" with a small amount of carrier oil. As a general guide, add 4-5 drops of essential oils per 10ml of carrier oil. This is the standard 2% strength blend. It's really important for roller blends to contain essential oils that are diluted in carrier oil. Ignore any advice you see online about using neat essential oils directly on the skin – this can cause severe skin irritation, burns, blisters and sensitization. Sometimes a stronger blend can be used for occasional or limited use (up to 5%). But for regular and everyday use, it's best to stick to a standard strength.
I've seen some terrible roller blend recipes online, such as this one which uses a whopping 90 drops of essential oils in just 5ml of carrier oil. One of the comments below the article even recommends a recipe for children that uses 167 drops of essential oils in 35 drops of carrier oil. These ratios are dangerously high and not advisable.
Roller blend recipes
Which essential oils should you use in a roller blend? Well, it's really up to you, depending on your personal preferences and objectives of the blend. For example, if you're making a blend to help you sleep, you might want to consider oils such as lavender or vetiver. If you're making a blend to make you feel energised and refreshed, you could consider oils such as lime, peppermint or basil.
A good essential oil reference book will tell you which oils to use for specific conditions (you can download mine here!). I would suggest using between 2 and 4 different essential oils to create your blend. Remember, top notes will evaporate quicker than base notes – so if you're using the roller blend as a perfume, this is useful to bear in mind.
You can have fun experimenting with different essential oils. Here are a couple of examples to get you started:
Relaxing: 2 drops lavender, 2 drops frankincense and 1 drop marjoram
Headache Buster: 3 drops lavender and 2 drops peppermint
What to do
It's so easy to make your own roller blends, and you can customise each one to your own preferences. What's more, they make beautiful gifts for friends and family – something that's truly unique and not only smells wonderful, but has therapeutic value to boot!
Fill your empty bottle with approximately 10ml of carrier oil (leave a small gap for your essential oils)
Add your drops of essential oils to the bottle
Snap on the rollerball to the top of the bottle, then screw on the lid.
Roll/shake the bottle to disperse the essential oils evenly into the carrier oil
Add a label, so you don't forget what's in there!
And that's it! Easy, right?
It's a good idea to invest in some sticky labels so you can easily label your roller blends. Once you start making these, it can get kind of addictive…and it's easy to mix up your bottles!
If you're making these to use as gifts, be sure to include a label listing the ingredients, how to use the product, and any relevant safety precautions (e.g. avoid sunlight in the case of photo-toxic oils).
I found these beautiful personalised sticky labels on eBay, which add the perfect finishing touch. Aren't they pretty? The perfect stocking filler for Christmas!
Watch my video tutorial to make your own DIY aromatherapy roller blends:
Follow me on...




Share this on...