Make Your Own Aromatherapy Bath Salts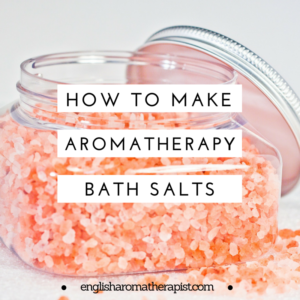 Would you like to make your own aromatherapy bath salts using essential oils? They make such a pretty gift for friends and family, and are SO simple to make!
There are several different types of salts that can be used in your bath, from Epsom salts to Dead Sea Salts, and sometimes it can be confusing to know which one to use. Adding essential oils is a lovely way to add fragrance and therapeutic value to your bath salts – see below for some aromatherapy blend suggestions.
Dried herbs can make an attractive (and fragrant) addition to home-made bath salts, but be aware that they can also make the bathtub rather messy afterwards!
Watch my latest video to find out just how EASY it is to make your own bath salts at home!
DIY Aromatherapy Bath Salt Recipes
Remember that not all essential oils are suitable to use in the bath. Always check the safety data of any essential oil before using it, and don't be tempted to add too many drops! Only a small amount is needed to achieve a strong fragrance.
Recent research suggests that it might be advisable to dilute the essential oils in a carrier oil before mixing into the bath salts. It's always best to be on the safe side, so I would definitely recommend this for anyone with sensitive skin.
Here are some suggestions for essential oils to use when creating your own bath salt concoctions…
Relaxing – Lavender, geranium, sandalwood, frankincense, vetiver
Uplifting – Bergamot, grapefruit, mandarin
Soothing Aches & Pains – Marjoram, lavender, juniper, coriander, clary sage, vetiver
As always, the products used in this video are NOT sponsored by any brand. Any links I provide are purely for your convenience!
Stockists:
Westlab Salts: http://westlabsalts.co.uk
Home Bargains: http://www.homebargains.co.uk/
The Range: http://www.therange.co.uk/
Absolute Aromas: https://www.absolute-aromas.com/
Follow me on...




Share this on...