App update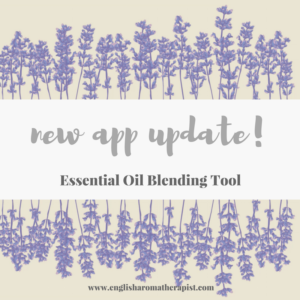 I'm pleased to announce the latest update of my app – the Essential Oil Blending Tool – is now LIVE!
Since its release just over a year ago, my app has been downloaded by more than 22,000 people in over 120 countries around the world. It's been great to hear all your lovely comments and feedback, which has really helped to improve the original version.
A big THANK YOU to all of you who have already upgraded to the Premium version!
If you haven't downloaded the app yet, head to iTunes or Google Play and download your free version now!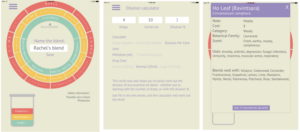 What is the app?
If you're not familiar with my Essential Oil Blending Tool, click here to find out more.
What's new?
So, what's changed in this latest version of the Essential Oil Blending Tool app?
Well, all the features you LOVE – like my handy dilution calculator – are still there! Plus, we've made some tweaks to make it even better:
Previously, you could only access the blends you could make with your selected oils. In other words, you selected the essential oils you had (in Customise Essential Oils) and the app showed you which blends you could then make with those oils.
Based on user feedback, we have changed this so Premium users can now access ALL the conditions, whether they can make these blends or not. Blends you cannot make with your oils are shown with an asterisk.
Some users reported a display issue immediately after upgrading. I'm pleased to say this has now been fixed!
The Essential Oil Blending Tool is all about learning which oils combine well together, allowing you to create your own aromatherapy blends.
It's not about specific blend recipes – but, if this is what you're looking for, I highly recommend downloading The Aroma App! This is a newly released app that's a database of aromatherapy blends, with the option to upload and share your own recipes! I'll be writing more about this soon, but in the meantime you can find out more at thearomaapp.com
What else?
We'll continue to tweak and improve the app over time, so feel free to send feedback or comments about your user experience!
Do you have a second?
If you like my app, or find it useful, could you please spare a second to leave a quick star rating on the App Store? It would be much appreciated – thank you so much! (Here are the App Store links for you: iTunes and Google Play)
Tutorial video
Follow me on...




Share this on...