The Aroma App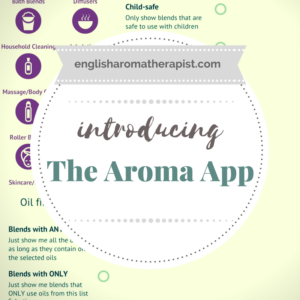 Have you ever wanted to find a list of blends you can make with the oils you have?
If so, you need The Aroma App!
Launched a few weeks ago, this is a brand new community-based app that's a searchable database of essential oil blends. Better still – you can add your own blends too!
You might have already seen the buzz about The Aroma App online, so let's answer all your burning questions!
What is The Aroma App?
The Aroma App is a community database of aromatherapy blends. It's a useful way to store your favourite blends, as well as searching for new blending ideas. The app was launched with over 550 blends, and new ones are being added every day.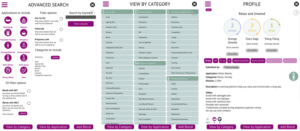 Is this "my" app?
No
What's the difference?
A few of you have asked what's the difference between The Aroma App and my own app.
The apps are completely separate. The main difference is that my app (Essential Oil Blending Tool) is all about learning which oils blend well together, using a blending wheel system. My app is not about specific recipes.
However, The Aroma App is all about the blend recipes! So, if you want to know specific quantities – this is the app for you!
Is this affiliated to any brand of oils?
No, it is completely independent.
Does this app promote unsafe usage?
No. The Aroma App does not endorse ingestion, neat application or other unsafe usage of essential oils. For clarity, The Aroma App rules are clearly stated on the Help page within the app, and on the website at thearomaapp.com
Are blends pre-approved?
Blends are not approved before being published – and for good reason. It's great that users can submit blends and share them with others without having to wait hours for a moderator to manually approve each one. With global time zones, this would be incredibly frustrating!
Blends that are unsafe, inappropriate or in violation of The Aroma App rules can be reported to a moderator for review. These blends may be deleted at the discretion of The Aroma App (for more details, see here) Users may also be restricted or suspended for inappropriate behaviour.
It's important to remember that pre-censorship is not always a good thing. Aromatherapy is not about clear "rights" and "wrongs". Even professional aromatherapists have varying opinions about usage issues. All essential oil users need to take some level of responsibility when it comes to educating themselves about safety and usage. There is an extensive Safety Information section within The Aroma App, which provides great guidance for users.
You can also rate blends with a 'thumbs up' or 'thumbs down' icon to provide feedback to other users. Plus, you can clearly see the dilution of every blend at a glance.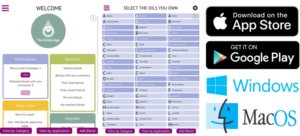 What are the benefits?
So, what can you do with The Aroma App?
You can search for aromatherapy blends, either for a specific condition or by application (e.g. diffuser, roller blend, etc.)
What's brilliant is that you can filter the search results – sometimes you just want to see blends you can make with the oils you have. You might just want to find blends that are child-safe or pregnancy-safe.
I love that you can say "I've just bought a bottle of Spearmint oil – show me all the blends that contain Spearmint!" as a starting point for blending inspiration (go to Advanced Search and pick 'Blends with ANY')
Add your own blends to share with the community (or choose to keep private, if you prefer!) This is a great way to store your favourite blends.
It's really quick and easy to submit a blend, and the safety precautions are automatically generated by the app!
Premium users can access profiles for 100 essential oils. This is really useful for looking up information on individual oils – particularly when you're on the go!
What else?
I love that you can adjust the quantities for any blend with just one click – this is really useful, and saves all those calculations!
The app also automatically works out the dilution for every blend – fabulous!
What's more, you can even buy a desktop version (for Mac or PC) – and use it across all your devices! Genius!
How to get it
Download The Aroma App – for FREE – from the App Store today.
I'm excited to join this interactive community and enjoy browsing all your blends!




*Disclaimer: I am an ambassador of The Aroma App. I have not been paid to write this post.
Follow me on...




Share this on...