New App Version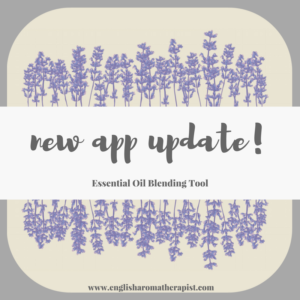 I'm excited to finally announce the launch of my UPDATED Essential Oil Blending app!
Since the first version was released last August, my app has now been downloaded over 15,000 times across 125 countries. I've had such great feedback from everyone that I decided to develop a more advanced version. I've taken on board all your comments and advice – and I think you will love the new version even more!


.
.
What's New?
The following features are available to ALL USERS who update the app:
Dilution Calculator
The updated version includes a handy dilution calculator, which allows you to easily work out the dilution percentage of any blend.
Simply enter the number of drops and amount of carrier oil to calculate the blend dilution %. Or, enter the desired dilution % to calculate how many drops you will need.
You can switch between metric and imperial measures, as well as different drop sizes to reflect brand variations.
Blending Information
I've added useful information about how to dilute essential oils and how many drops to use.
Saved Blends
You can now name and delete your saved blends. These can be accessed from the Main Menu.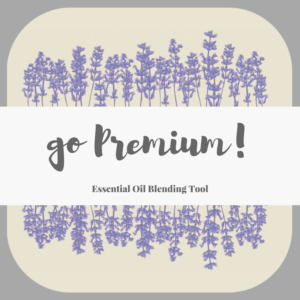 And if you upgrade to Premium…
To maximise your experience, why not upgrade to the premium version? You'll get:
More Oils!
Access up to 60 essential oils – TWICE as many as the free version
More Information!
Hold down on any oil to access detailed profiles for 60 essential oils, including Latin name, botanical family, note, cost, category, description, uses and blending partners
More Conditions!
Access up to 45 conditions – 50% more than the free version
More Features!
Customise the blending wheel based on the essential oils you have in your own collection – making it more relevant for your individual needs
More Options!
Settings options for sounds, colours and contrast display
FIND OUT MORE ABOUT THE APP
See Get the App to find out more details about what's included in my Essential Oil Blending app.
HOW DO I GET THE APP?
If you have already downloaded the app, run updates to download the latest version.
If you have not already downloaded it, click the relevant App Store link below!


Follow me on...




Share this on...