Let's talk about Massage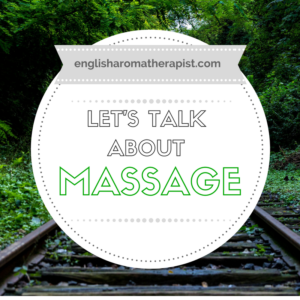 Life is stressful — it always has been, and a certain amount of stress is normal. A world completely devoid of stress would be a pretty boring place. But we're now in a situation where chronic stress has become something of an epidemic. In the UK last year, 17 million working days were lost due to stress, and a new case of work-related stress, anxiety or depression was diagnosed every 2.1 minutes. It's fair to say that stress has hit an all-time high.
The good news is that awareness of mental health issues is growing all the time, and we're seeing more and more TV documentaries exploring alternative solutions for stress and mental illness (such as the eye-opening The Doctor Who Gave Up Drugs, BBC1). Social media campaigns have worked tirelessly to end the stigma surrounding mental health issues and encourage more people to seek help.
Every day we're being encouraged to take up mindfulness, meditation and exercise to improve our mental wellbeing — and it's really beginning to infiltrate into everyday culture. The mindfulness app Headspace now has over 3 million users across 150 countries. This is all fantastic, and I think it's a really positive step forward in our approach to health. Finally, we're realising the importance of mental wellbeing and how it interacts with our physical health. Essentially, this is what holistic therapies are all about — treating the body AND mind as a whole.
So, what else can we do?
Let's talk about massage.
I believe the massage industry offers massive potential, but remains largely untapped in the UK. We need to move away from the idea that massage is something that only happens on a luxury spa day or down a dodgy back street. Why not bring massage into everyday life, and boost the nation's wellbeing as a result?
Most people love a good massage — in fact, throughout my career I have only ever met a few people who actively disliked it. There will always be some people who don't like the idea of massage — some worry it will feel awkward, embarrassing, painful or too tickly. But hey, there will never be a magic 'one size fits all' solution. It's about finding something that works for YOU.
Why should we?
There's nothing like a really good massage to blast away stress and tension. I honestly believe that if we all had regular massages, the world would be a better place. If that sounds far fetched, consider this: it's thought that around 80% of physical illness is caused, or exacerbated, by stress. Failing to manage long-term stress has a devastating impact on your entire body — the knock-on effects are endless, from high blood pressure to heart attacks. Anything you can do to deal with stress is beneficial to your mental AND physical health. So many people fall into a deteriorating cycle of stress and ill health. We need to be pro-active in taking care of our health, and this includes mental health. Massages can play a key part in soothing physical tension as well as calming the mind.
At the moment, booking a massage is not something most of us do on a regular basis. After all, massages can be expensive and, as a perceived luxury, feature low on the priority list of expenditure. When there are bills to be paid, it's not always easy to justify paying out for such treatments. As it stands, many of us only experience a massage when visiting a spa once in a while — and there are tons of people out there who have NEVER had a massage at all.
What's the problem?
In my opinion, one of the biggest hurdles (after the obvious financial ones) is the difficulty of finding a decent massage. For those of us who don't live in London, the opportunities for massage therapy are fairly limited. Currently, most people have two options: luxury spas or high-street beauty salons. Unfortunately (and I don't wish to offend anyone here), a lot of beauty salon massages are not all they're cracked up to be — I cannot tell you the number of times I have been disappointed by 'beauty massages' in salons (read about my worst ever massage here). All too often, the therapist is simply going through the motions of a set routine and using a generic massage oil without any sufficient oomph for it to really make a difference. And no, I'm not saying all beauty therapists are like this — but many are. I know, because I've worked in this industry for a long time and been on both sides of the couch.
And let's face it, it's not practical to be booking spa days every time you want a decent back massage. If you're lucky, you might find a local gym offering a range of massage treatments. If not, your massage options are probably pretty limited. Many mobile massage therapists refuse to even take bookings from unknown male clients, due to fears about personal security.
Personally, I've found it quite difficult to find somewhere to go for a really good back massage. Unfortunately, some businesses that advertise themselves as "massage salons" are offering more than just regular massage. Because of this, it makes it difficult to establish which places are actually just offering great massage therapy and nothing "extra".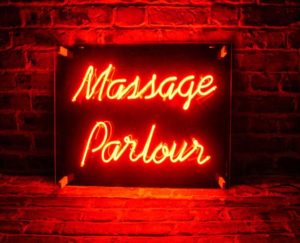 Image: http://www.electrosigns.co.uk/
Recently, I spotted a new massage establishment in my local area. Externally, it didn't give much away – apart from a massage sign and some very basic décor, there was nothing that encouraged me to open the door and walk in. Tucked away down a side street, it made me wonder — was this one of "those" massage salons? It's a shame that these preconceptions make us dismiss such places. We need to get massage therapy out in the open, and away from back streets.
What's the solution?
The front pages of newspapers are splashed with headlines about our mental health crisis — so why not think outside the box? Rather than handing out endless prescriptions, why not explore other avenues of improving mental health? Of course, massage isn't going to solve everything – it's not a miracle cure. But preventative treatments like massage can help to keep stress at bay and prevent it from snowballing into a serious illness. Even a 10-minute massage can ease muscular tension and stiffness, giving you a mental and physical boost.
Many corporate offices are beginning to offer in-house massage and wellness services for employees as a solution to rising workplace stress. Wouldn't it be fantastic if more people were prescribed holistic treatments like massage, rather than pills of dubious effectiveness?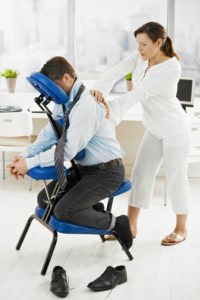 Corporate massage is gaining popularity
(Image: http://www.dreamstime.com)
For too long, massage has been tainted with sniggers and seedy connotations. It would be great if men could book themselves a massage without feeling obliged to exaggerate a sports injury. It's time that massage therapy is incorporated into everyday life — not just on spa days or down back streets.
I'd love to see more walk-in massage centres — similar to those high-street barber shops that operate on a 'sit and wait' basis. With a few massage chairs set up, people could pop in on their lunch-break or way home from work and enjoy a 10-minute seated back and shoulder massage. Imagine how amazing this would feel after a long day hunched at a computer desk or behind the wheel. Popping in for a massage could become part of everyday life. With no need to undress, this makes it more appealing to passers-by who would never normally book themselves a massage in a spa or salon. Unisex branding would open up massage to men who might otherwise feel hesitant to approach a high-street beauty salon. For busy people, it's the ultimate in flexibility and convenience — no appointments to keep, no future commitment. It would also spread awareness about the benefits of massage, sparking people's interest to go and book themselves a full-length massage at a salon or clinic.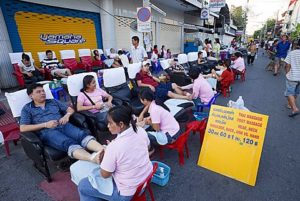 Street massage is common in places like Thailand
(Image: https://www.robertharding.com)
They could be located in train stations, shopping malls, airports, business parks — anywhere with a high footfall of stressed-out people! With an affordable pricing strategy — perhaps £5 for 5 minutes, £10 for 10 minutes — this would make massage accessible to people who wouldn't usually get round to booking a full spa treatment. I know some of these places exist already, so wouldn't it be great to roll this out across the country? As every therapist will tell you, regular massages are the key to health. The reality is that we're all extremely busy and just don't have the time and money for regular spa treatments. Keeping on top of daily stress and tension can make all the difference, and prevent it accumulating into a bigger problem. Taking the time to switch off — even for just 10 minutes — can be surprisingly beneficial.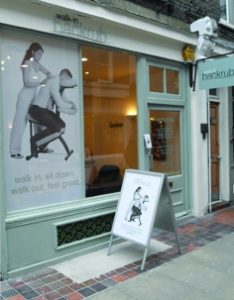 Backrub, an example of a walk-in massage clinic in London
(Image: http://www.walkinbackrub.co.uk/)
I think we need more places like this. What do you think? Would you visit a walk-in massage centre?
Follow me on...




Share this on...