Make your own bath & body oil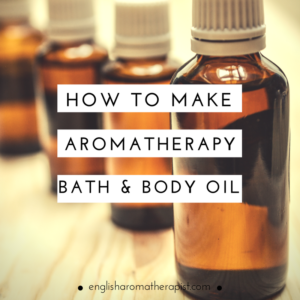 Making your own aromatherapy body and bath oils is super easy, very rewarding and MUCH more affordable than buying luxury brands!
Homemade aromatherapy oils make a truly special gift for friends and family, especially as you can totally customise each one to suit the individual person. With some pretty packaging, I think it beats a store-bought bath oil hands down.
If you're looking for inspiration to make your own gifts this Christmas, check out my Making Your Own Aromatherapy Christmas Gifts post, which includes the full video and access to my downloadable recipe guide to make 5 different types of products.
This recipe makes an aromatherapy oil that can be used in three ways: as a massage oil, as a body moisturiser, or as  a bath oil.
The fun part is choosing which essential oils to use — this will totally depend on your objectives or personal preferences. For example, you might want to make a blend to ease aching muscles, or a blend to uplift your mood. This will affect your choice of essential oils.
In the video below, I've used a heavenly combination of clary sage, fennel, bergamot, geranium and lavender. You can enjoy experimenting with different scents to find a fragrance you love — or perhaps you already have a favourite blend!
The important thing is to make sure your essential oils are properly diluted in a carrier oil. As a rule, aromatherapists prefer to use a 2% dilution — this means adding a total of 4-5 drops of essential oils per 10ml of carrier oil. This ratio can be easily scaled up or down accordingly, so for 100ml of carrier oil you would add 40-50 drops of essential oils.
If you would like to learn more about how to blend essential oils, why not download my set of ebooks? These contain everything you need to know about the blending process, including detailed index tables for 50 of the most popular essential oils, plus extensive lists of oils to help with 50 common ailments. There's a lot of confusing and conflicting advice online, so I compiled all my knowledge and resources gained from over 13 years of working in this industry. The information in these books is completely impartial and not affiliated to any specific brand, so you know it's advice you can trust!
Now, watch my video tutorial to see how to make your own aromatherapy bath and body oil:
Follow me on...




Share this on...