What am I taking on holiday?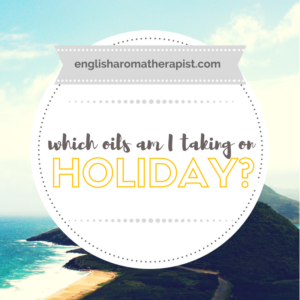 Next week, I'm off to Devon for a family holiday. We're hoping for a week of sun, sea and sandcastles – but, let's face it, this is England. In April. Better pack the umbrellas and wellies!
Naturally, I've squeezed some aromatherapy goodies into my suitcase, too. So, which oils does The English Aromatherapist take on holiday?
Well, I've chosen just a few oils that I'm calling my 'holiday essentials'. As you can see, I've been very selective with my choices – mainly for reasons of SPACE (for some reason, it's impossible to 'travel light' with children).
Secondly, it's really not necessary to take ALL THE OILS with you on holiday ( I know it's tempting, trust me). Essential oils are incredibly versatile, and there's a lot you can do with a basic kit.
What's in my kit?
My holiday kit includes a few single oils, along with some synergies, inhalers and roller blends. I'm hoping this will cover most (if not all) eventualities for a relaxing family holiday – and I'd like to point out that this is alongside (not instead of) the usual first-aid paraphernalia.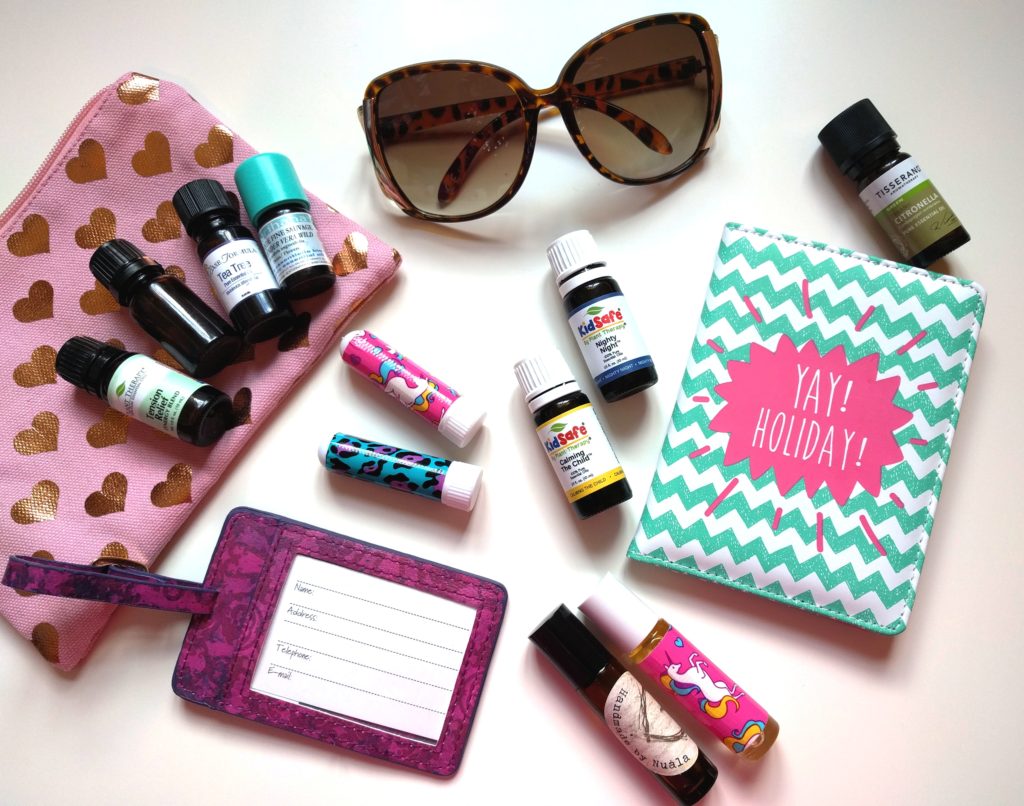 Citronella essential oil
What could be nicer than relaxing outside on a spring evening, enjoying the scenery with a glass of something lovely? Even better if those pesky insects are kept at bay! Citronella oil is your best bet for keeping unwanted pests away. Good alternatives include lemongrass, peppermint and lavender.
Tea tree essential oil
A must-have in any first-aid kit, antimicrobial tea tree oil will always come in handy for spots, bites, rashes and minor burns. Just make sure it's not an old bottle – if tea tree oil has oxidised, it can increase the risk of skin irritation.
Lavender essential oil
You can't really go wrong with lavender – probably the most versatile essential oil, and one that pretty much everybody has in their own collection. This is going to be useful for just about everything, and it's a great child-safe oil to take on a family holiday. From skin problems to stress, headaches, sleeping problems, minor burns…lavender is definitely one to pack in the suitcase!
You'll also spot a plain dark-coloured bottle on the photo above – this is a pre-mixed 1% blend of lavender in grapeseed oil, which is a child-safe dilution that can be applied straight to the skin. Ideal for when you're out and about!
'Calming the Child'
This is a Plant Therapy synergy blend from their KidSafe range, which was developed in collaboration with Robert Tisserand. Synergies are super convenient and ideal for travelling – a few drops of this on a tissue is a simple way to soothe frazzled nerves at the end of a long day. You can read more about the Plant Therapy brand here.
'Nighty Night'
Again, this is another Plant Therapy synergy that is designed to be used with children, although they're just as lovely for us grown-ups, too! Use a few drops of this on a tissue in your hotel room to create a relaxing atmosphere before bed. Familiar scents from home will help to reassure young children, so it's a good idea to bring any oils or blends that you regularly use as part of your bedtime routine.
'Tension Relief'
Long car journeys, travel stress, family disputes, overindulgence, dehydration…it's no wonder that headaches are a common feature during holidays! This is a lovely fresh-smelling synergy blend that can help to ease tension in the head and neck. A combination of lavender and peppermint makes a great alternative.
Inhalers
As you can see, I've packed two inhalers: one is a calming herbal blend of lavender, frankincense, marjoram and clary sage. The funky blue leopard-print one is an uplifting combination of basil, lime, peppermint and rosemary. These are perfect to pop in your handbag or pocket for whenever you need an aromatherapy boost! Find out how to make your own inhaler here
Roller Blends
I've packed two lovely general-purpose roller blends for this holiday: one is a child-safe blend of mandarin, lavender and roman chamomile (this is the super-cute rainbows and unicorns design!) The other one is a heavenly exotic blend of cypress, patchouli, mandarin and ylang ylang – lovely to use as a perfume, or to unwind at the end of a long day! Find out how to make your own roller blends here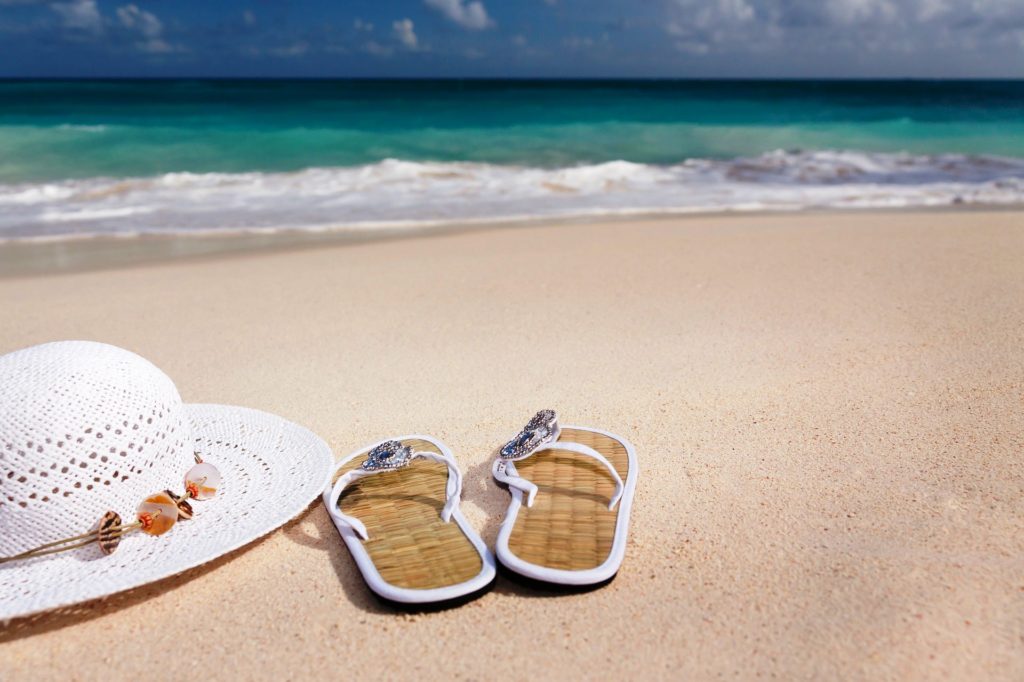 What will you choose?
Clearly, your choice of holiday oils will entirely depend on where you're going, and what you're planning to do when you get there!
For a week in Devon, I'm not expecting tropical weather. But if you're off to warmer climes, you might want to think about after-sun blends, mosquito repellent or cooling hydrosol sprays. If you're hitting the ski slopes, perhaps you'll need some muscle-warming blends. For travel sickness, peppermint and/or ginger can be useful. There really is no standard 'holiday kit' – it's all about personalising it to your individual needs.
I'd love to hear about what oily goodies you'll be taking on holiday this year – let me know in the comments below!
Follow me on...




Share this on...