My Worst Massage Ever!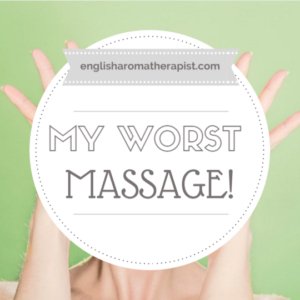 What is the most important thing to remember as a massage therapist?
Well, there are several factors – such as professionalism, client care, communication and providing the best possible service, to name a few.
Let me tell you about the worst massage experience I ever had.
As a little treat, I'd booked myself a 30-minute Swedish back massage at a local salon. My baby was around six months old at the time, and this was the first bit of 'me-time' I'd had since he was born – so, naturally, I was super excited about it. He was a fairly clingy baby, so after six months of carrying him around on my hip everywhere, I was suffering with neck and shoulder pain every day.
It had been a long time since I'd last had a professional massage, so I was really looking forward to my appointment. When you're spending 24/7 looking after a newborn, even a half-hour to yourself seems like heaven!
So I arrived for my appointment at the salon, very much looking forward to relaxing and enjoying my back massage. I was hoping to leave feeling refreshed and with less tension in my shoulders. The problem was my therapist didn't know these were my objectives of the treatment because, guess why? There was no consultation! I didn't fill out any form or record card. Not even a verbal consultation. All the salon knew about me was my name and phone number.
The therapist called me into the treatment room, asked if I'd had a massage before and told me to get undressed and lie on the bed. She was perfectly pleasant, and I'm not criticising her personality at all, but I felt slightly taken aback at the lack of consultation. As I lay face down on the bed, I heard her come in and start to prepare the massage oil. At this point I wondered if I should speak up and let her know that it was my shoulders I was hoping to focus on, but I thought that maybe she would ask me some questions before she started the treatment.
Was I pregnant, did I have allergies, skin conditions, high blood pressure, epilepsy or other medical conditions she needed to know about? Nursing mothers are supposed to avoid certain essential oils, but she wouldn't have known this applied to me because she didn't ask me ANYTHING.
(Lesson 1: Always do a consultation with your client. It's important to establish if there are any contra-indications to going ahead with the treatment. Your insurance won't cover you if you don't take the necessary precautions. Secondly, you need to ask about your client's objectives in order to provide the best treatment possible. Your client won't leave feeling happy if they don't feel that their needs have been met.)
Lying face down isn't very conducive to verbal communication, which is why it's best to do a consultation before the treatment begins. So I decided to just try to relax and enjoy the treatment, despite the lack of consultation.
My therapist then spent a good 15 minutes doing some detailed massage work on my hip bones – yes, right on the bone! Now, in my training we were taught to massage muscle, not bone. As far as I was concerned, I'd booked a back massage, not a hip bone massage.
This wasn't exactly pleasant or relaxing, and I felt slightly frustrated at feeling the minutes of my precious half-hour tick away while my bones were unnecessarily kneaded.
Never mind, I thought, soon she'll move up to the neck and shoulders and everything will be fine. I was willing to forgive everything so far, as long as my trapezius muscle got some attention.
Then, to add insult to injury (quite literally), she paused and said – in a scolding tone – "Are you relaxing?" I felt like a naughty schoolchild being told off for not doing what they're told. Face down, all I could do was squeak out a "Yes!" Lying there, I was now feeling not only frustrated but somehow guilty for not relaxing enough! This was becoming the most stressful massage ever!
(Lesson 2: Interpersonal skills are crucial when working as a massage therapist. Think about how you're coming across to your client. Don't belittle or criticise them!)
To be honest, it was almost a relief when the treatment ended. The therapist hadn't addressed any of my concerns, and had completely failed to make me feel relaxed. Far from being chilled out, I actually felt more tense than I did when I walked in!
As she turned the lights on, the therapist sighed "Well, there's a lot of tension in your back. You have a lot of…issues…" she said, trailing off in a pitying yet rather patronising way.
Now, if there's one thing to remember when you're working on clients, it's that the main aim should be for them to leave feeling HAPPY. You need to make your clients feel good about themselves – so don't make them feel worse! If your clients leave feeling happy, they're more likely to rebook and tell their friends how great you are. If your clients leave feeling BAD, they will reflect on the experience in a negative way and are extremely unlikely to return!
This is not a routine medical appointment. A client who has booked a massage is looking for some indulgence, relaxation and pampering. Sure, they might have muscular problems they'd like to address, but on the whole they're looking for an enjoyable experience. Sometimes massage can hurt – in fact, some modalities of massage can be quite painful – but the overall experience should definitely still be a positive one.
I walked home feeling disappointed, frustrated, dissatisfied and wishing I hadn't bothered. I certainly won't return there for a massage in future. The point of this article is not to shame the therapist – she seemed like a nice person, and perhaps was just having a bad day – but it's to point out the importance of considering the client's perspective. To her, I was just another client – a 30-minute appointment to squeeze into a back-to-back schedule. But to me, this was a special occasion – my first real treat in months. Your clients want to feel special. Do everything you can to ensure they leave feeling happy.
Follow me on...




Share this on...