How to Choose an Essential Oil Brand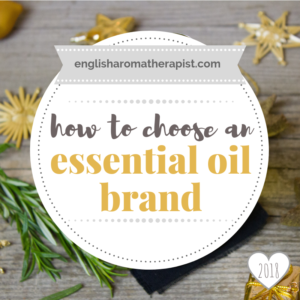 It's not always easy to find a trustworthy essential oil brand. With so many fake oils out there, how can we tell which companies to trust?
What is the best brand? It's the question I'm asked the most! So I've created a NEW ebook called How to Choose an Essential Oil Brand.
Best of all – you can get this ebook for FREE when you download my full set of ebooks! This is a limited Christmas offer, so be quick!
WHAT'S INSIDE?
How to Choose an Essential Oil Brand discusses some of the important factors to consider when evaluating an essential oil brand. This 25-page ebook covers all aspects of brand evaluation, including a handy table featuring my 'Top 10' checklist and examples of recommended brands.
INCLUDING:
♥  What is the Best Brand?
♥ Are Most Oils Adulterated?
♥ Is This Brand OK?
♥ Factors to Consider
♥ How to Evaluate a Brand – Top 10 Checklist
♥ Which Brands Are Not OK?
♥ How to Spot Fake Essential Oils
♥ Why is Spelling Important?
♥ What to Look for on Labels
♥ Conclusion
♥ Examples of Recommended Brands
Follow me on...




Share this on...